DuRSAAM 2023: Venue and accommodation
3. How to get the Symposium venue
1. Visit Ghent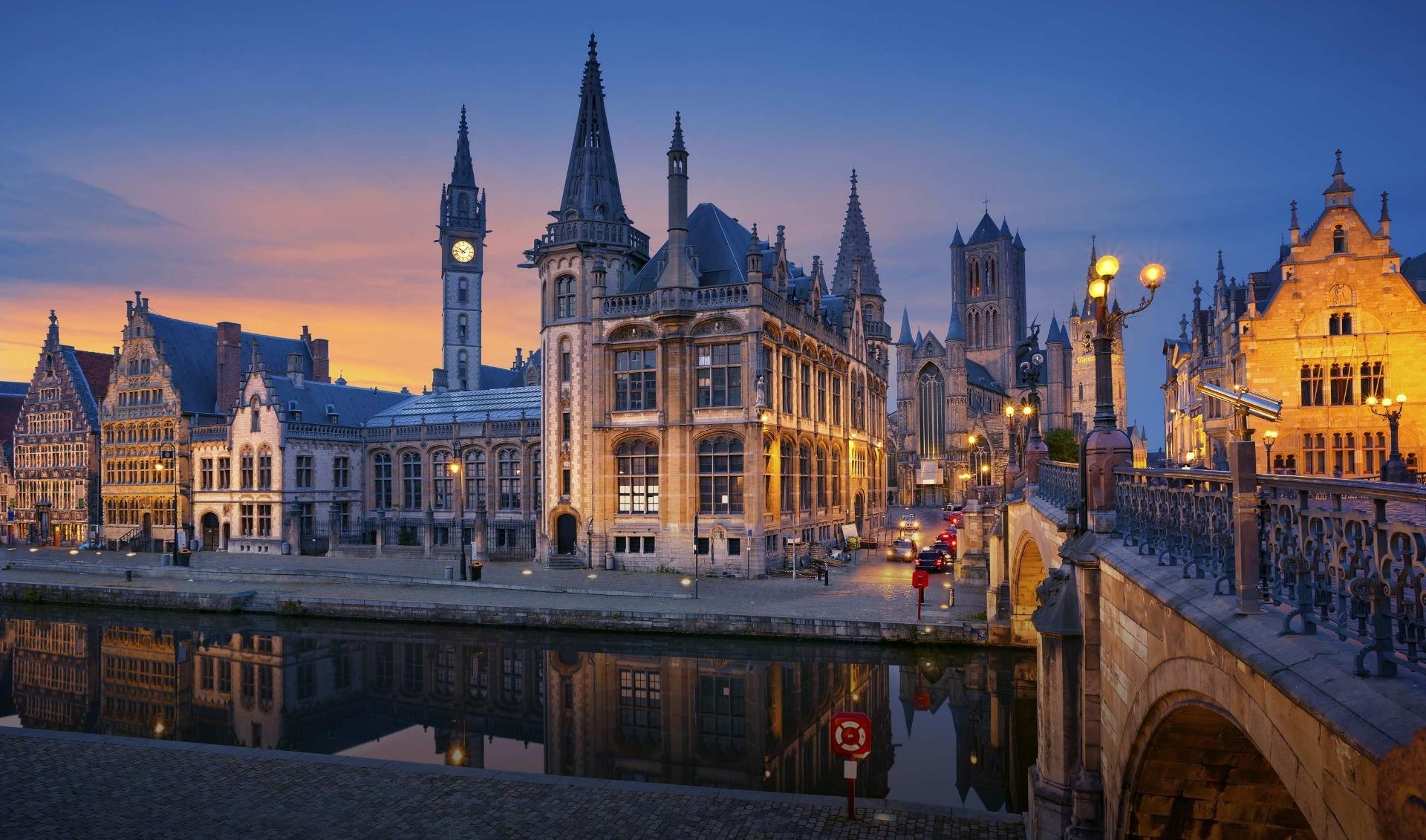 "The historic heart of Flanders", "a city of all times", "the medieval Manhattan" and "Europe's best-kept secret": the nicknames Ghent has acquired over the years are as colourful as the city itself. Wander through the city centre and you will immediately understand the numerous tourist awards and international praise.
Ghent is Belgium's second-largest municipality by number of inhabitants. Ghent covers an area of 156,2 km² and has a total population of about 264 000 inhabitants. The city is known for its bright life, associated to its unique combination of touristic, cultural, economic and student activities.
A city map with some touristic information is available at this link.
Further touristic information: Visit Gent 
2. How to get to Ghent
Ghent is centrally located in Europe, at the crossroads of highways between Amsterdam, Paris, London and the Ruhr Area. The city is easily accessible by car, by train and by air.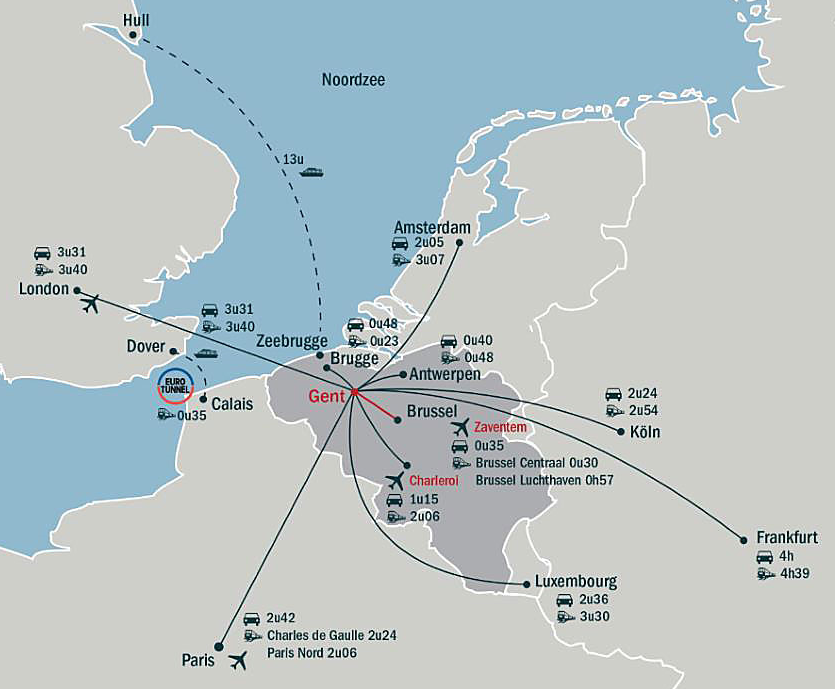 BY AIR
- Most international flights arrive at Brussels National Airport. At the airport there is an underground railway station. Tickets to Ghent can be purchased through the onsite vending machines and cost between 17 Euro (2nd class) and 23 Euro (first class). At least 4 trains per hour leave to Brussels (about 10 min). Continue with a direct (intercity) train Brussels to/via Ghent (about 35 min), which will stop at 'Gent Sint-Pieters'. Note that some trains to Ghent can be directly taken at the airport, yet these might take longer (regional trains with more stops, versus the intercity connection you can take more frequently from Brussels). Travel information: B-rail. Arriving at 'Gent Sint-Pieters' continue by walking, public transport or taxi to your final destination in the city.
- Some low-cost flight carriers arrive at Charleroi Brussels South Airport, which is somewhat further away from Ghent compared to Brussels National Airport (about 1,5 to 2 hours depending on transport mode). There are three options for travelling between Charleroi (Brussels South) Airport and Ghent: by Charleroi Airport - Ghent direct shuttle bus, by train (after taking a local bus to Charleroi train station), or by taxi. The first option is recommended. The bus company Flibco is offering a direct shuttle bus to and from the station of Ghent with a frequency of 9 trips a day (there and back). Using this service, you will travel more comfortably, it's cheaper and often also faster than via train. Booking is mandatory. Taking a taxi from Charleroi Airport to Ghent can cost over 250 EUR (flat-rate with prior reservation).

- Direct flights to Belgium are widely available, yet Ghent is also well connected to international airports abroad, such as Schiphol Airport (Amsterdam) and Airport Charles de Gaulle (Roissy, Paris). These are located ca. 2 to 2,5 hours from Ghent by high-speed train (such as Thalys) to Antwerp Central or Brussels-South (Brussel-Zuid or Bruxelles-Midi) and continuing with an intercity train to Ghent. Travel information: B-europe.

BY HIGH-SPEED TRAIN AND TRAIN
The closest international railway station for high-speed trains is Brussels South (Bruxelles Midi) railway station (arrival of Thalys, TGV, Eurostar, ICE, etc.). Travel information: B-europe. Switch to one of the many intercity trains (IC) to or via Ghent. Travel information: B-rail.

BY CAR
Ghent is situated at the intersection of two major European highways: the E17 connects Northern Europe with the Southern countries, and the E40 goes from the North Sea across to Eastern Europe.
BUSES AND TRAMS IN GHENT
Ghent has a dense network of bus and tramlines available between 06:00 and 01:30 am.
More information: Visit Gent - public transport. Route planner: De Lijn.
3. How to get to the Symposium venue (de Bijloke)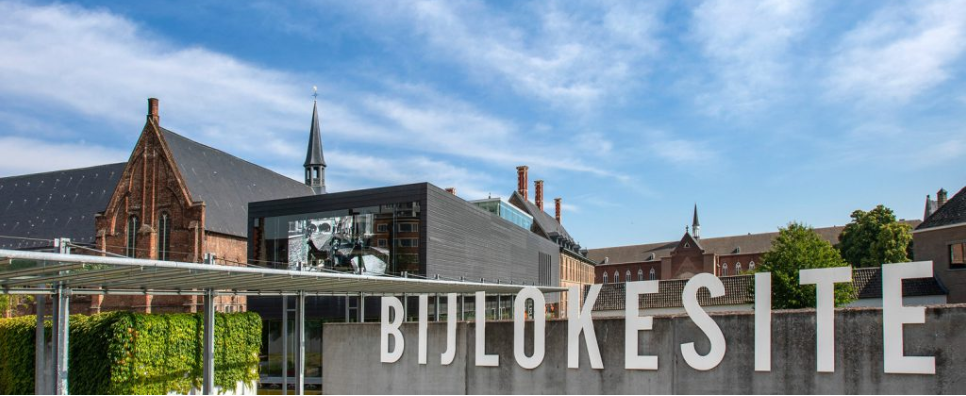 The Bijlokesite is about a quarter of an hour's walk from the Gent St. Pieters station and 20 min walk from the Sint Baasf cathedral (most of the suggested accommodations are in between or nearby these two reference points). From the station, you can also take the tram to the Bijlokesite. There are also several tram and bus stops near De Bijloke. The easiest way to plan your route is to use the De Lijn route planner.
You can have access to the Bijloke site from Godshuizenlaan 2 or Bijlokekaai 7.
| | |
| --- | --- |
|   | |
|  Gent map: location of the "de Bijloke" site |  De Bijloke map: paths to get to the symposium venue |
4. Suggested accommodation
Some suggestions are listed below. You can click the names to open the web link.
Near Sint-Pieters Station:
In the City Center:
Last Updated: Saturday, 04 February 2023 16:03